Joined

Mar 26, 2004
Messages

37,682
Points

113
Minding the Media: Teen Magazines
By Margarita Tartakovsky, MS, for
PsychCentral
December 14, 2008
"Get Your Best Body By New Year's". "And Still Eat What You Want". "What His Kiss Really Means". "Party Outfits for Your Body: Flaunt Your Favorite Feature".
The above headlines sound suspiciously similar to our good old women's magazines - complete with the usual conversation on our bodies (Unbelievably thin models. Check. Thin "regular" girls. Check.), looks, and men.
This is the latest issue of
Seventeen
, the largest teen magazine today, whose readership tops about 13 million monthly.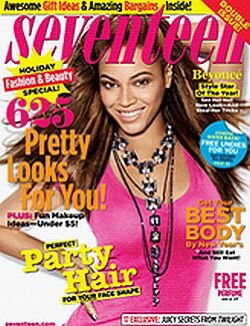 Below these "women's magazine-friendly" headlines is "We're in it together: Learn how you and your girls can help each other feel good about your bodies". So right after you're finished altering your body in record speed - "tone your whole body in just three weeks!" - worrying about breaking your fast with a Christmas cookie, trying to decipher what his kiss reveals about your relationship, and showing off your body, then you can rally the gals for a feel-good talk.
If you think this heralds hypocrisy, you aren't the only one shaking your head. Last year, the magazine launched a campaign on positive body image in conjunction with Dove. They've also included a "Body Peace Expert" who answers teens' body image-related questions (see
here
and
here
). According to the press release:

"We're facing a crisis in teen body image", said Seventeen editor-in-chief Ann Shoket. "This campaign adds a profound new dimension to Seventeen's position as the fashion and beauty authority for teen girls. While it's our goal to help girls look great, our mission is empty if they don't feel great too."

The year-long initiative launched in the November 2007 issue. Each month in the magazine, with the advice of body image expert Jessica Weiner, Seventeen will tackle the mixed messages girls get from skinny celebrities, their body-critical mothers and their friends who bond over how fat their thighs are.

​
Interestingly, there?s no mention of tackling the mixed messages that magazines promote. How can
Seventeen
follow its own body-positive philosophy and campaign goals when the magazine pushes the very thing it denounces?
But at least
Seventeen
is trying. This month?s
CosmoGirl
features "Ab Attack: one magic move to a sexy stomach" and "Party Girl: the key to being the center of attention is simpler than you thought".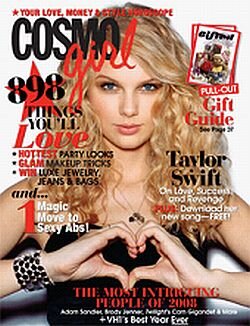 Of course it is - it's just a few simple, damaging tips away. Essentially, these magazines prepare teen girls for the fast-approaching future of reading women's magazines where we learn how not to break our latest rigid diet, how to emulate celebrities and their whittling waistlines and how never to be satisfied with ourselves.
Sure, many of us enjoy our beauty rituals, love to shop, take pride in looking pretty and like to work out and eat well and appreciate great tips. And to be fair, in its latest issue,
Seventeen
, for instance, talks about feeling great and eating a wholesome diet and includes a column from the body image expert and an essay by Dr. Maya Angelou on giving back.
So why ruin these valuable features with headlines that promote quick fixes or super-fast results and exclusively spotlight skinny models? It's one thing to talk about body acceptance but it's another actually to walk the walk and at the very least show girls of different sizes. Why focus so much on food or trying to figure out what his kiss means? Surely there are better things to do with your time.
I'm not naive enough to think teen magazines need to discuss the keys to acing your math test or worse, showcase real role models all the time, instead of bogus starlets who make it big by showcasing their bodies. But it'd be refreshing - and valuable - to see magazines abandon catchy, overdone headlines for something smarter. If I had the power to change their headlines and articles, here's what I'd do:
Get your best body by New Year's → How to get healthy and accept your body in the New Year and beyond
And still eat what you want → Understanding that eating well doesn't mean dieting or restricting
What his kiss really means → Focusing less on reading his mind and body language and more on yourself
With such a large readership, you?d think magazines would act more responsibly, would expand their content and would actually use real-looking girls, even in their fashion shoots (gasp!). For all their influence, don't teen magazines want to be part of cultivating young women who are strong, intelligent, independent individuals versus girls who are constantly dissatisfied with their bodies, and think they need to diet and work out to be thin? What else do they learn from viewing slim models wearing the clothes they yearn to wear?
Ultimately, it's not about ignoring issues that are real to teens today like body image, sex, celebrity culture and dieting. But it is about giving them the tools to tackle these issues intelligently and with confidence. Rather than being trendy and provocative or watering down articles and reducing them to catch phrases and clever, 'sexy' headlines, help girls become smart and savvy with articles that go beyond beauty and diet. And if you're going to feature these sorts of articles, then at least create ones that don't make girls feel bad about themselves or encourage them to engage in unhealthy behaviors.
What Parents Can Do
As a parent, it's tough to know how to help. Forbidding these magazines only makes them seem that much more desirable and ignoring them and keeping quiet about their influence - and bad advice - doesn't help your teen, either. Here are some resources that offer great tips for walking that fine line.
Alternative magazines that empower young girls and teens-fluff and mixed messages excluded: