Psychopia: My Schizophrenic Life
by Kathy, Shrink Rap
December 20, 2010
This inspirational short documentary is a story about Sandra MacKay, a woman in her mid-40′s who was diagnosed with paranoid schizophrenia at the age of 15. She still has the condition today, but has become a very successful individual despite immense struggles growing up with a mental illness that many people don?t understand. Sandra is the author of
My Schizophrenic Life: The Road To Recovery From Mental Illness
.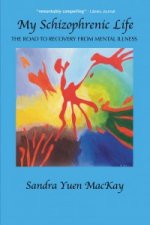 Early in her life, Sandra started to exhibit the typical symptoms of schizophrenia, which came as a surprise to her unsuspecting family.
My Schizophrenic Life: The Road To Recovery From Mental Illness
chronicles her struggles, hospitalizations, encounters with professionals, return to school, eventual marriage, and success as an artist, writer, and advocate.