Winnipeg's transportation systems pummeled by wintry wallop
by Ian Froese,
CBC News
October 11, 2019
Shows cancelled, dozens of highways closed as southern Manitoba grapples with wild early snowstorm
Dozens of highways in southern Manitoba are closed due to treacherous conditions caused by a snowstorm. (Walther Bernal/CBC)
Shows have been cancelled and more highways have been closed as southern Manitoba grapples with a massive snowstorm that has left much of Winnipeg at a standstill.
Friday night, Canadian indie-pop duo Tegan and Sara cancelled their Winnipeg concert that was scheduled for Saturday at the Garrick in Winnipeg.
In Brandon, the Friends Don't Let Friends Tour Alone Tour scheduled for Saturday in Westoba Place at the Keystone Centre was re-scheduled for Sunday.
Cirque du Soleil also called off its scheduled Friday show in Winnipeg.
Across southern Manitoba, dozens of highways are closed due to treacherous conditions, including Highway 75, Highway 1 from Headingley to Brandon and Highway 2 from Highway 100 to Highway 5.
Meanwhile, Mayor Brian Bowman asked Winnipeg residents Friday morning to avoid non-essential travel on roads, after the overnight snowstorm knocked out trees and power to thousands of homes, resulting in a slate of closures and expected delays.
The city also decided to close all of its recreation facilities and libraries for the remainder of Friday and Saturday.
As a result of the storm, several flights
scheduled to depart from
, or
arrive at
, James Armstrong Richardson International Airport were grounded.
Among the flights that did manage to land in Winnipeg Friday night, at least one - WestJet 529 from Toronto - experienced significant delays once it hit the tarmac. Airport spokesperson Tyler MacAfee said the flight got stuck on a jetway after landing, forcing those on board to wait more than an hour for buses to take them to the terminal.
Through Saturday morning, MacAfee said a total of 14 departures and 14 arrivals had been cancelled at Winnipeg's airport due to the weather.
Record 100,000 without power: Hydro
At one point, more than 27,000 Winnipeggers were left in the dark from power outages. Provincewide, more than 100,000 people have been without power for at least part of the day -
a record
, Manitoba Hydro says.
Travel has been significantly delayed across the provincial capital, with crews fanning out to plow slippery streets and remove trees that fell on roads and sidewalks, and across power lines. Winnipeg Transit is experiencing significant
delays
as well.
In a news conference Friday, Bowman suggested that employers should let their staff go home early, if possible.
A tree takes down a power line in the alley behind Dorchester Avenue in Winnipeg. (Jeff Stapleton/CBC)
"I know some employers may be voluntarily deciding to close their offices today to allow their staff to get home early," he said at the news conference, where it was announced that Winnipeg would activate its emergency operations centre.
"That's obviously something, if it could be accommodated, [that] would be helpful. We want to avoid as much travel as possible on the roads."
@manitobahydro
These are the conditions our crews are working in today in Winnipeg and south central Manitoba. Thanks for your patience as we continue to deal with wet snow and wind that will cause prolonged outages. Make sure to stay clear of downed lines.
#mbstorm
#mboutage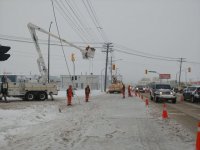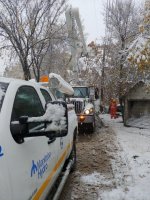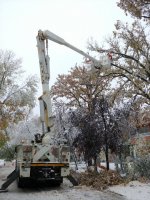 1:22 PM · Oct 11, 2019·Twitter
CAA Manitoba said it had received 500 calls from drivers by 3 p.m., and those who have received help are usually waiting around an hour for assistance, spokesperson Alan MacPherson said.
It's taking a while to hail a taxi as well, Unicity Taxi general manager Nirmaljit Singh said.
People are on hold for 10-15 minutes on the phone, and then it can take as long as half an hour for the taxi to arrive, he said.
For those who could get on the road, conditions were treacherous.
Power was out at 24 intersections with traffic signals, the city said mid-afternoon. Winnipeg police officers are helping direct traffic at a number of intersections.
Manitoba Public Insurance said it expects to tally 2,000 collision claims from the last two days. The majority of the collisions were fender-benders involving minor damage and two or more vehicles, MPI said, and a couple hundred claims involve vehicles damaged from falling trees or branches.
There have been a couple hundred claims involving vehicles damaged from falling trees or branches, MPI said. (Bartley Kives/CBC)
The public insurer closed its Main Street Service Centre due to power outages. Appointments can be rescheduled at no cost, MPI said.
The Assiniboine Park Zoo was closed Friday because of power failures and other challenges, as were the Park Cafe and other amenities at the park, such as the English Garden.
The storm
closed schools in several Manitoba school divisions
, and also affected post-secondary institutions in the city.
Classes at
a number of University of Manitoba buildings
on the Fort Garry campus, including the Biological Sciences building and Max Bell Centre, were called off due to power outages. Power was expected to be restored to all buildings by 4 p.m.
Outages also prompted the cancellation of all classes at
Canadian Mennonite University
, and Red River College closed
all buildings at 2 p.m.
Blowing snow took down this big tree on Balmoral Street overnight in Winnipeg's West Broadway neighbourhood. (Bryce Hoye/CBC)
Winnipeg's health authority is warning significant delays and cancellations for home care services could continue throughout the long weekend.
Clients have been asked to make backup plans with family and friends in case a service disruption affects them.
Hundreds of power line calls
The Winnipeg Fire Paramedic Service, meanwhile, postponed a scheduled open house until Oct. 19 because of the weather and higher than normal call volumes.
The service had received 750 calls for assistance over 24 hours, the city said mid-afternoon, which is double the amount it normally handles. Of those calls, more than 340 were related to power lines, including two structure fires.
City officials provided no estimate Friday on what the cleanup from this week's storm will cost, though it would plow a hole in the $11.8 million left over in the city's $46-million snow clearing budget.
The city increased its annual snow clearing budget earlier this year.