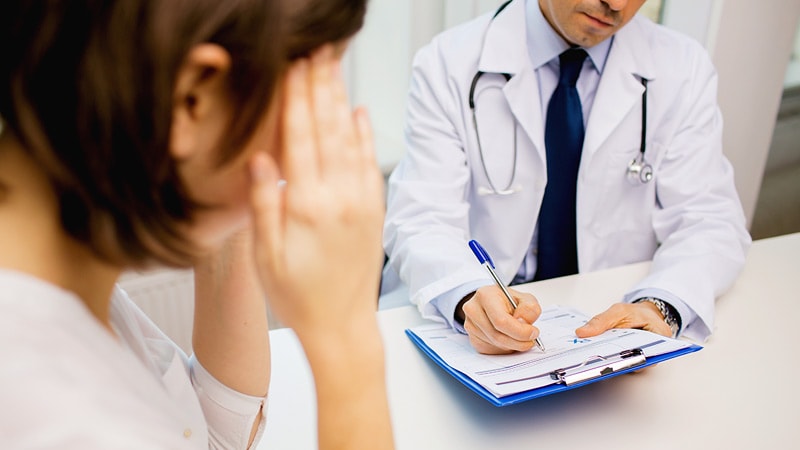 Key aspects and practical tips about migraine diagnosis and treatment for primary care physicians.
by Vera Gibb, DNP, MSN,
Medscape
April 25, 2022
Globally, migraine is
second
among leading causes of years lived with disability. Migraine affects about 15% of the US population and is one of the
most common
and debilitating conditions encountered by primary care providers (PCPs). About
1 in 10
patients present with a complaint of headache to their PCP and 75% of these patients have migraine. Yet, this condition often goes undiagnosed.
Here are five things to know about managing migraine successfully in primary care.
1. Migraine is a chronic neurologic disorder, not an episodic headache.​
As our knowledge of the pathophysiology of migraine has evolved, we've come to understand that this condition is an
inherited
,
chronic neurologic
disease with recurrent episodic attacks.
Migraine is a disabling brain condition influenced by both genetics and environment, and it is characterized by attacks of throbbing head pain and sensitivity to movement as well as visual and auditory stimuli.
Symptoms
of irritability, yawning, fatigue, and difficulty concentrating can precede migraine attacks by 1-2 days; attacks are followed by hours of feeling tired and unwell. They can last for
4-72 hours
, with
90%
of patients reporting moderate to severe pain and more than 50% reporting severe impairment or reduced productivity. Furthermore, migraine is a chronic disorder across a life span, with age-dependent changes in clinical presentations and prevalence.
2. Migraine is frequently misdiagnosed and undertreated.​
Migraine is often
misdiagnosed
as a sinus headache. One
study
of nearly 3000 patients with self-described or physician-diagnosed migraine demonstrated that 88% of participants had migraine, not sinus headaches, and had neither a correct diagnosis nor the appropriate treatment with migraine-specific medications. The
American Migraine Study II
showed that almost 50% of more than 30,000 participants who received a diagnosis of migraine were unaware that they had the condition prior to taking part in the study. Among the most common misdiagnoses was sinus headache.
And more recently, in a
small study
of 130 patients, 81.5% of participants were misdiagnosed with sinusitis. Among the misdiagnosed patients, almost 88% were treated medically and just over 12% were treated surgically, without relief of symptoms in nearly 85% and 77%, respectively. Yet, migraine headache improved in about 69% of patients with proper diagnosis and treatment.
There is a need for PCPs to be knowledgeable and willing to diagnose and treat migraine. Many
PCPs may be hesitant
to prescribe migraine-preventive medications because of unfamiliarity with treatment guidelines and novel therapies. The primary care management of migraine remains suboptimal, resulting in an average 4-year gap between diagnosis and initiation of preventive medications. Out of
more than 40%
of patients who meet criteria for migraine prevention, roughly 75% are not currently using a migraine-preventive medication or a triptan medication to abort an acute attack.
To help improve the management of headache, the American Academy of Neurology developed a set of
quality measurements
for headache. They include documentation of frequency, counseling, acute management, and preventive management as quality measures specifically for migraine.
3. There are different ways to approach management of migraine.​
Successful migraine treatment includes a combination of therapies. Patient education about those therapies is the first step toward achieving successful management of this condition. Although not every patient is willing to start pharmacologic therapies, many are willing to try at least one of the
treatments
recommended by American Academy of Neurology and the
American Headache Society
. Those treatments include:
Abortive medications
Preventive medications
Neuromodulation devices
Biobehavioral therapy
Nutraceuticals
Supplements
Complementary and integrative treatment modalities
Biofeedback
Decisions about the use of either pharmacologic or nonpharmacologic approaches depend on multiple factors.
Treatment plans
should be individualized, and selection of the type of treatment is at the clinician's discretion and comfort level.
4. Prevention is the cornerstone of management.​
As with many chronic diseases, prevention is key to migraine management. Migraine is classified as
episodic
(up to 14 headache days per month) or chronic (15 or more headache days per month). The American Headache Society Consensus Statement recommends offering
preventive
management for patients with six or more migraine headache days per month.
Modern understanding of migraine pathophysiology has changed the
treatment paradigm
, ushering in a new era of migraine-specific therapies, including 5-hydroxytryptamine 1F (5-HT1F) receptor agonists as well as calcitonin gene-related peptide (CGRP) monoclonal antibodies and receptor antagonists. Targeting the
CGRP pathway
may be the first focused migraine-specific preventive option in the history of headache medicine, which may revolutionize management.
Successful treatment may consist of a combination of
acute and preventive
therapies. Preventive treatments can include pharmacologic therapies, neuromodulation devices, and
behavioral
therapies. Migraine-preventive management may result in improved response to acute treatment; decrease in attack frequency, duration, and severity as defined by patients; reduction in migraine-related disability; improvements in health-related quality of life; and reduction in psychological distress.
5. Improving migraine education for primary care providers is key.​
There is
no standardized approach
to teaching headache medicine in medical schools or in physician assistant or nurse practitioner programs. Education in headache medicine varies from institution to institution. Most graduates have not received the training needed to recognize and treat headache disorders. Taking this into account, several reputable national organizations have developed programs to improve migraine management within primary care.
The American Headache Society has established the
First Contact
- Headache in Primary Care website to provide guidelines, educational resources, free continuing medical education (CME) credits, and a migraine management
flowchart
. The National Headache Foundation launched
Primary Care Migraine
, a free web- and app-based training program that offers PCPs free CME credits while learning about the most current migraine treatments and protocols. And the Association of Migraine Disorders offers
A Migraine Toolbox
, a comprehensive CME course that covers practical approaches to diagnosis and treatment, as well as resources including questionnaires, medication guidelines for clinicians, and patient brochures.