Joined

Mar 26, 2004
Messages

37,607
Points

83
No-reformat reinstalls for all Windows versions
by Fred Langa,
Windows Secrets
Newsletter January 9, 2014
A nondestructive Windows reinstall completely refreshes the operating system but retains your user accounts, data, passwords, and/or installed programs. This type of repair takes a fraction of the time required for a standard, full reinstall — and it's much, much easier to do.
I've covered nondestructive reinstalls for previous versions of Windows in several earlier stories.
See, for example, the July 14, 2011,
Top Story
, "Win7's no-reformat, nondestructive reinstall." The process for Vista is nearly identical. For Windows XP, check out the 2006 InformationWeek
article
, "XP's no-reformat, nondestructive total-rebuild option."
Reader William Searle wondered about this capability in Windows 8.
"Is there a Win8 version of the 'no-reformat, nondestructive reinstall?'"
Indeed there is, William. Microsoft made it easier than ever and built it right into the operating system; it's nondestructive for your settings and user data and for native Win8 apps downloaded through the app store. (From-disc apps, however, might still have to be reinstalled the old-fashioned way.)
Here's how to access the Win8 version of the reinstall process.
Open the Win8 Charms bar and click
Settings
(the gear icon). At the bottom of the Settings bar, click
Change PC settings.
On the PC Settings page, select
General
and then click the
Get started
button under
Refresh your PC without affecting your files
(as shown in Figure 1).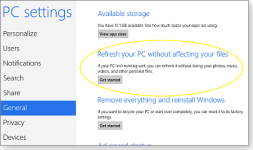 Figure 1. Win8's built-in version of a no-reformat, nondestructive reinstall is always just a few clicks away in the PC Settings menu.
The next screen tells you exactly what the refresh will do. Read it carefully. For example, it notes that applications you installed from disc or the Web will be removed. (Apps downloaded from the Windows Store are retained.)
It's taken a long time for this capability to become a standard item in Windows, but it's great that it's finally there!