Microsoft reverses course, restores downloads of Windows 10 November Update
ZD NetNovember 24, 2015
Last weekend, Microsoft suddenly pulled its online tool for downloading the latest Windows 10 installation files. Today, the company explained the seemingly minor bug responsible for the decision, and has now made the tool available again.
Here's the new official statement:
Recently we learned of an issue that could have impacted an extremely small number of people who had already installed Windows 10 and applied the November update. Once these customers installed the November update, a few of their settings preferences may have inadvertently not been retained. For these customers, we will restore their settings over the coming days and we apologize for the inconvenience. We worked to resolve the issue as quickly as possible - it will not impact future installs of the November update, which is available today.
That sounds too trivial to believe as a reason for such a drastic action but if you read the article and see what it did change "behind your back" you'll appreciate the agony of the Microsoft lawyers ....
All four of the settings (two of which are shown in the screenshot below) are set to On in a default installation. Any Windows 10 user who turned those four settings off, either as part of the original Windows 10 installation or after the fact, had them turned back on during the upgrade to build 10586.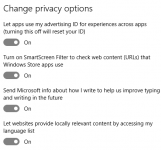 Read complete article