By Susie Johnson,
BPHope.com
Oct 4, 2021
Pets can heal us in unexpected ways. I never thought our cat would become a lifeline, but she has proved to be the sassy support I need (and love!).​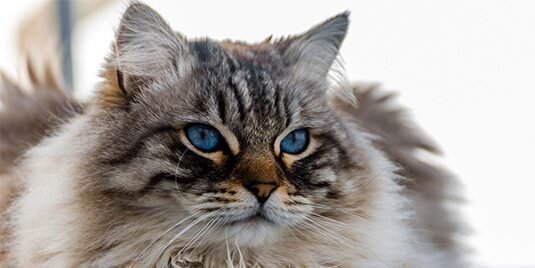 During my later childhood years, we shared our family home with pet dogs, and I came to learn about how they can help ease the
symptoms of mania
as I neared adulthood.
But I had no idea what a key role our
cat
, Angel-Ann, would play in helping me to manage my mental health and
bipolar disorder
. I was in for a surprise.
Over a decade ago, my husband and I lived in a small condo. There was no room for a dog. So, we decided to get our first cat. Because my husband is allergic to cats, we chose to buy a
purebred Siberian cat
.
"Cat Parents"​
We brought home our bundle of joy—crying ferociously—in a pink cat carrier. Our lives changed that hot Las Vegas day—for the better.
We had no clue how to be "cat parents," but we quickly learned where and how to pet her: under the right side of her face, and belly rubs
only
on her terms.
With her blue eyes and her blue-point tail, she looked so cute and innocent, all nestled up and sleeping on the couch. But she still needed a name. Just as we settled on a Siberian cat to meet both my needs and my husband's, we also worked together to give her a two-part name: Angel-Ann. I chose the name Angel, and my husband chose Ann, after his late mother.
Angel-Ann proved to be an angel … until about a day after we brought her home. From then on, she showed us her personality: one prissy diva who loved strutting around the condo, meowing away.
House-Sitting & Windstorms​
Angel-Ann has used several of her nine lives. Many years ago now, we were house-sitting, and my husband neglected to lock one of the doors. One thing you may not know about Vegas: it has brutal windstorms. The day he did not lock the door was a day one of those storms blew through the valley. I came home from work to find the house empty and the door wide open.
I screamed and frantically called my husband, who was at work. He had to leave early to come back to the house and take care of me, as I had completely "lost it." Not only because Angel-Ann was missing but because the house we were staying at had a golf course … and that meant coyotes lived there.
Roughing It​
Angel-Ann had never spent one day out of the house. Friends came over to help with the search. We went door-to-door. We put up signs in the neighborhood. We did everything we could to find Angel-Ann.
I
could not sleep
, and I could not eat. After a while, I had to make a call to the
psychiatrist
. There was nothing anyone could do. Except for God.
Days passed, with no cat in sight.
Then, one night, the cell phone rang in the other room. The call was from a woman who worked a night job. She had arrived home at 2 a.m., and Angel-Ann approached her and meowed. Our poor girl was hungry and exhausted. Thankfully, the woman recognized Angel-Ann from one of our posters and graciously brought her into the garage and fed her some tuna.
Reunited at Last!​
We were reunited the next morning. Angel-Ann was all purrs and exhaustion. We took her to the vet, and we were pleased to learn that she was just fine. All told, she had lost three pounds, and I had lost five.
I think God knew how much I need her. At the end of a stressful day in the classroom, I need to run to Angel-Ann, bury my head in her fur, and listen to her
calming purr
.
A Therapeutic Bond​
These days, my therapist has whiskers. There is definitely a time for
talk therapy
, and I support it 100%. But for the everyday stressors, I find that her help is just what the doctor ordered.
I worry about the day when Angel-Ann will
pass away
. My husband says that when it happens, he is moving to a forest to get away from me—because I will be beyond devastated. To
prepare
, I have already found a local support group for coping with the loss of a pet.
Right now, Angel-Ann is healthy, and I am hoping for a few more years with her. I know that, one day, she will pass away. As hard as that will be, I also know that there will be more pets to love.
Someday, I would like to rescue a cat and a dog. It was my current
psychologist's love of dogs
, in fact, that showed me I'd finally found the right counselor for me.
I hope you are lucky enough to own a pet that brings you much joy, happiness, and stability—just like Angel-Ann brings to me. At the end of the day, I wouldn't have it any other way.
About Susie Johnson​
Susan Johnson graduated from Drake University with a BA in sociology. She is the author of Some Dreams Are Worth Keeping: A Memoir of My Bipolar Journey. Since her diagnosis of bipolar I in 1995, Susie's true passion in life is to help break the stigma of mental illness and to bring hope to those who live with one. An accomplished inspirational speaker and guest blogger at bpHope Blog, Susie was the subject of a "This Is Me" Q&A in bp Magazine in 2018. Her writing also appears in the Catholic Exchange, the Kingdom Revelator, and Las Vegas Pet Scene Magazine. Susie co-leads a mental health group at her church and currently works with special education students as an instructional assistant for a school district in Nevada. In 2021, she gave a TEDx Talk called "Having a Mental Illness Is Not a Death Sentence" at TEDxTenayaPaseo. Susie enjoys hiking, baking, traveling, practicing yoga, spending time with her goddaughter, and taking trips to Cancun. Originally from Thousand Oaks, CA, Susie now makes her home in fabulous Las Vegas with her husband, Gary, and Siberian cat, Angel-Ann. Visit her website, SJohnsonAuthor.com and follow her on Facebook and Instagram.