Joined

Aug 5, 2004
Messages

21,140
Points

113
PDF | Obsessive-compulsive disorder (OCD) is a prevalent mental disorder characterized by intrusive thoughts (obsessions) and ensuing rituals... | Find, read and cite all the research you need on ResearchGate
www.researchgate.net
Abnormal moral judgments in OCD are due to executive dysfunctions. These dysfunctions include impaired cognitive control resulting in the domination of strong, uncontrolled emotional responses, impaired cognitive flexibility resulting in the inability to switch between aspects of a scenario, and decreased capacity and overload of working memory and its inability to resist the interfering information...
Disobeying moral norms results in the abnormal feeling of deontological guilt [
"guilt originating from the violation of a rule"
] in OC patients, to which these patients are highly sensitive...
Contributing to abnormal moral judgments in OCD is known to be the
abnormal feeling of disgust
for moral violations and immoral unwanted intrusive thoughts, which is regarded as one of the major causes of OCD symptoms. Finally, the abnormal fear of responsibility and being criticized due to not acting morally is regarded as one of the primary impairments contributing to the abnormal moral judgments in OCD.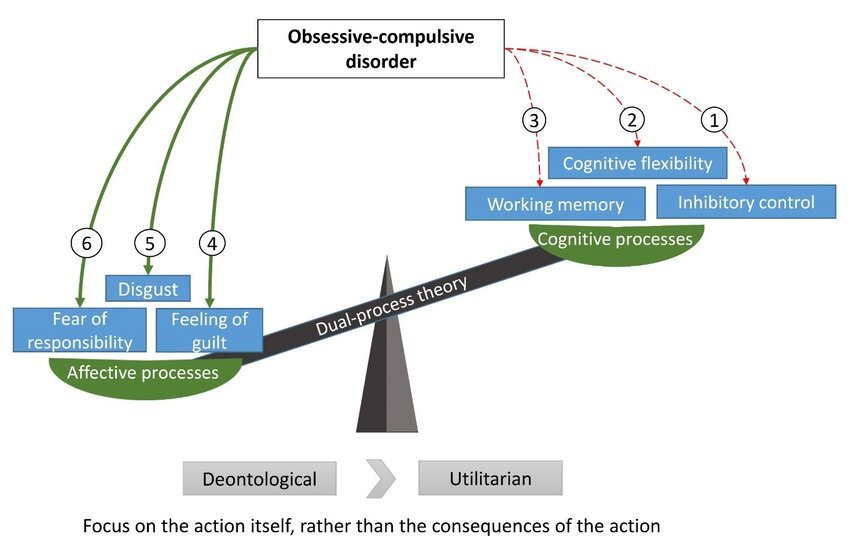 Last edited: